Professor Jane Hillston elected fellow of the royal society of edinburgh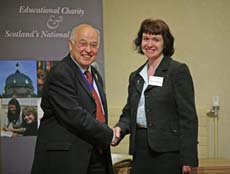 Following in the footsteps of distinguished predecessors such as Sir Walter Scott, Lord Kelvin and James Clerk Maxwell, over sixty experts have been elected new Fellows of
The Royal Society of Edinburgh (RSE)
. One of them was our colleague,
Professor Jane Hillston
.
Jane said:
'I was deeply honoured to be elected a fellow and I had a very enjoyable day at the Royal Society of Edinburgh when I was inducted on 30th April'.

Biography

Jane Hillson joined the Department of Computer Science at the University of Edinburgh, as a research assistant in 1989.
In 1994 she was awarded a PhD. Her thesis,
A Compositional Approach to Performance Modelling
, was selected for publication as a Distinguished Dissertation in Computer Science in 1995.
In 1995 she became a lecturer, and in 2001 a reader, in computer science at the University of Edinburgh.
In 2006 she became a Professor Quantitative Modelling and an EPSRC Advanced Research Fellow in the School of Informatics.
She is a member of the Laboratory for Foundations of Computer Science. Her principal research interests are in the use of process algebras to model computer systems and the investigation of issues of compositionality with respect to Markov processes.
Her work on the stochastic process algebra PEPA was recognized by the British Computer Society in 2004 who awarded her the the first ever
Roger Needham Award
.