1. Introduction to short-term memory
Short-term memory (abbreviated as STM) is responsible for storing small amounts of material over short periods of time
The amount of information varies with each individual person's memory span
A short time = up to several seconds
Anything remembered for longer than this time is classified as long-term memory
STM has often been tested with verbal or visual information,
but applies to other types of stimuli as well
Short-term memory and working memory have different functions and are not interchangeable terms
2. The magical number seven, plus or minus two
Classic research by George Miller (1956) described the apparent limits of short-term memory span
Memory span is the longest number of items (such as digits) that can be immediately repeated back correctly
Most people appear able to have a memory span of 5-9 items (average of 7)
The magical number 7 also turns up in absolute judgment tasks

Here, people asked to indentify a set of stimuli varying along only one dimension
For example, tones that vary only in their pitch
"Listen to a sequence of isolated tones, give each a number"
"Report the number for each subsequent tone"

Performance is good up to six tones, up to eleven for some visual tasks
These results have been widely confirmed and replicated
3. Memory span continued
Short-term memory span can be 'stretched' by meaningfully grouping or chunking information
For example, it is easier to remember one year, 1918, than four numbers 1, 9, 1, and 8
We tend to naturally recode information into chunks as an aid to memory

Remembering postcodes, phone numbers, and words as units rather than lists of individual pieces
Memory span for words in a sentence is significantly longer than for unrelated, context-less words
About 15 words (per Brener, 1940), compared to the magical number 7 otherwise
Constraints imposed by the rules of grammar, context, are not sufficient to explain this
We return to this finding as a part of the Baddeley-Hitch model of memory
4. Introduction to working memory
Working memory (abbreviated to WM) is a 'mental workspace'
This concept that assumes some part of the memory system does the following:
Temporarily maintains and manipulates information
This intermediate maintenance and manipulation is necessary for many complex tasks
Different theories and models of memory have more or less complex versions of this concept
that cooperate with the rest of the memory system in different ways.
An example of working memory: adding two multi-digit numerals in your head
Short term memory is one component of the larger working memory system
5. What about long-term memory?
Long-term memory (abbreviated LTM) is a system which stores information over long periods of time
Probably more than one system
A "long period of time" can be a few minutes or an entire lifetime
This sounds surprising, but the same system appears to cover both of those situations
LTM can be divided into explicit (declarative) memory and implicit (non-declarative) memory
Explicit memory includes
Semantic memory (definition memory and general knowledge)
And episodic memory (memory of specific events)
Implicit memory includes information that is retrieved by performance,
rather than by conscious recall
6. What good is a model?
Models can test theories of memory (or other phenomena)
By compactly describing existing data
By making testable predictions
How good is a model?
How much of the existing data can the model explain?
How well does a model explain current data?
What new data does the model suggest be collected?

And is the model confirmed or disconfirmed by new data?
Moreover, creating a model forces precision and computational completeness for a theory
Assumptions must be explained, and ambiguity must be resolved
All elements and operations must be specified in the type of detail a computer program would need
This class will focus on the Baddeley-Hitch model of memory.
This is not the only model of memory, but a good place to start
7. The Baddeley-Hitch model of memory
This Baddeley-Hitch model(B-H) is also more informatively called the multicomponent theory
Originally proposed in 1974
it remains a widespread and useful explanatory tool to this day
Involves the following pieces:
A phonological loop for verbal and auditory information
A visuo-spatial sketchpad for visual and spatial information
A central executive as an "attentional controller"
A multi-dimensional episodic buffer and episodic LTM

The episodic buffer is a more recent addition to the B-H model, about a decade ago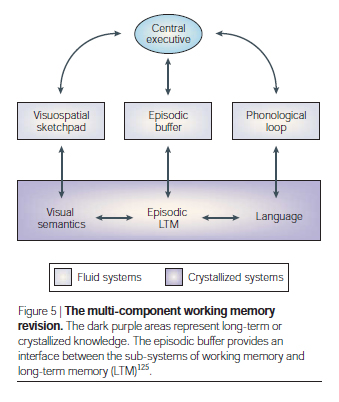 Diagram from Baddeley (2003), in refs on last slide
8. The phonological loop
Component of the B-H model which temporarily stores speech or verbally encodable information
The phonological loop is composed of two subcomponents:
A short-term store of limited capacity
An articulatory rehearsal process which repeats (rehearses) information to maintain it in memory
Information goes into this store if
It is from speech that we physically hear
It is "read out" from a short-term memory trace

For instance, sub-vocally rehearsing an item. This is essentially re-entering it in the loop again

You see visual information but remember by "saying it to yourself" (digits, letters, nameable objects)
9. The phonological loop, cont'd
The phonological loop accounts for the phonological similarity effect
People show poorer recall for a list of similar sounding items
It's been suggested that these individual items may have few distinguishing features and are easier to confuse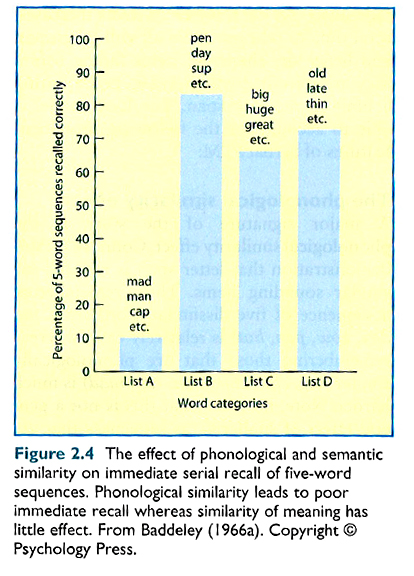 The word length effect
Verbal memory span decreases as participants are asked to recall longer words (shorter words are easier)
Maybe because each word takes more time to rehearse in the phonological loop and to recall
A robust and well-replicated finding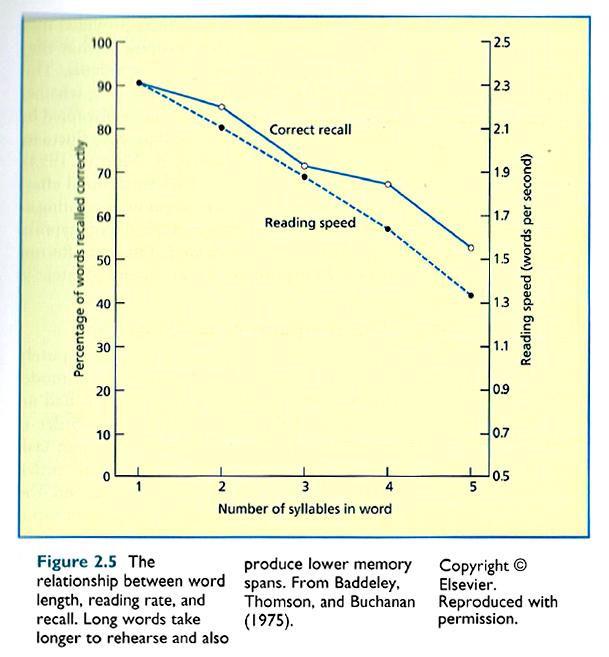 10. The visuo-spatial sketchpad
This store is responsible for image-based information, and is also subject to memory span limits.
Appears to consist of two subsystems which work closely together to hold and manipulate information
Memory for objects and their features (what)
Memory for spatial locations (where)
Note the similarity of this distinction to the organisation of the visual system
Special tasks have been devised to selectively study one aspect or the other, see textbook
One illustration of a span limit on the sketchpad is visual pattern span (Della Sala et al. 1999)
Participants are shown matrices with some cells shaded in, required to recall them
Matrices start small (2x2) and are increased in size until participants' recall span is reached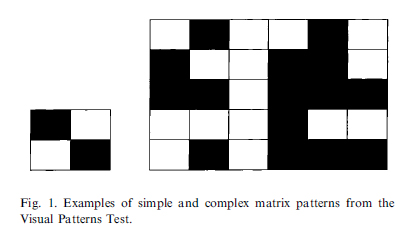 11. A new addition: the episodic buffer
The original B-H model struggled to explain interactions between working and long-term memory.
The episodic buffer has been suggested as an additional component to link memory subsystems with perception and LTM input/output
A multi-dimensional (multi-modal) space
Streams of information from various modalities such as sound, imagery are bound into objects, scenes, and other meaningful units
Binding is the process of linking individual object features into complete objects
For example blue-ness and square-ness into a blue square
Also can apply to creating a meaningful sentence out of words
This module could potentially explain the memory span finding that we can remember twice as many words in a sentence as we can individual, unrelated words.
12. Putting it all together: The central executive
These subsystems for different types of information do not operate autonomously
The central executive is like the air-traffic control tower of the memory system
Selects which possible pieces of information to manipulate (the "work" in working memory)
Switches between tasks (not necessarily a function specific to the memory system)
Its functions and the information it manipulates are limited by attention
The central executive is a very important concept in cognition
With other roles
and far-reaching implications outside of memory
We will return to this when studying attention
As described, it's not obviously testable
13. Baddeley-Hitch model recap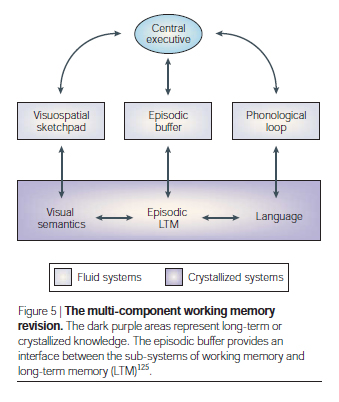 Phonological loop for speech or any information that can be verbally encoded and rehearsed
Visuo-spatial sketchpad for image information, objects and features, spatial locations/relationships
Central executive for selecting and controlling information flow
Episodic buffer for additional storage and binding information
Long-term memory for prolonged storage of declarative and non-declarative information
14. References
Course texts
Memory (Baddeley, Eysenck, & Anderson, 2009)
Optional readings
The magical number seven, plus or minus two (Miller, 1956)
Other resources, available through the library or Google Scholar
Working memory: looking backward and forward (Baddeley, 2003) NB: This is a useful review paper
An experimental investigation of memory span (Brener, 1940)
Pattern span: a tool for unwelding visuo-spatial memory (Della Sala et al., 1999)