Judy, or what is it like to be a robot?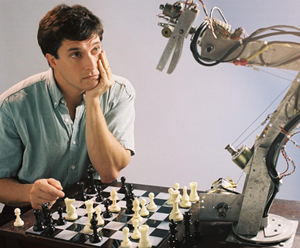 Tom Sgouros and his robot, Judy
If you build a robot smart enough to do the dishes, will it also be smart enough to find the task boring? Find out in this exclusive interview with a robot.

7pm, Friday 11 March 2005
Lecture Theatre 5
Appleton Tower
Crichton Street
Edinburgh EH8 9LE
Find us with
multimap.com
The event is recommended for ages 14 and above. Entry is free. Tickets can be obtained from
Diana Sisu
.
The intelligence of machines is a much debated subject. Some researchers say that computers will eventually attain super-human intelligence, others think that computers will be always be restricted to performing pre-programmed tasks, with limited ability to learn and innovate. Both camps have overlooked an obvious strategy: interviewing a computer and asking its opinion. Intrepid researcher Tom Sgouros has leapt into this breach, and tackles the issue in an entertaining and informative show.
Judy herself was built in Tom's basement, over the course of several months, from pieces of some old computers, a couple of bicycles, a photocopier, a marine stove, and yes, someone's kitchen sink. After intensive tutoring in phonics, elocution, and the elements of logic, Judy made her public debut in January 2000. Tom and Judy have toured most of the United States and are visiting Scotland in March this year. More about Judy.

Judy's spring tour of Scotland
11 March - University of Edinburgh (7 pm, Lecture Theatre 5, Appleton Tower)

15 March - University of Dundee (Bonar Hall, time TBA)
17 March - Robert Gordon University, Aberdeen (5:30pm, Aberdeen Business School, Garthdee Road)
The science bit
Please download information sheets on the sciences informing this show.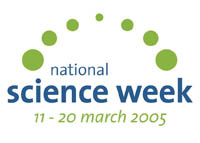 This event is part of the National Science Week