Informatics I-Rescue Team in Japan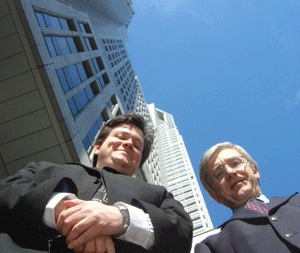 Austin Tate and Richard Wheeler were in Japan in November 2005 on a seven day visit to promote the work being done on
I-X for emergency response
. They were out to see senior decision makers and emergency responders in the Tokyo Metropolitan Government's Disaster Response Centre. They met with companies, such as NTT Data, who are key providers of the systems used to give resilient communications and coordination in the face of large scale natural disasters. The team also spoke with organisations exploring rescue and home companion robots, such as Sony and Toshiba.
The visit was supported by Scottish Enterprise as part of the I-X/IM-PACs Proof of Concept (POC) Project for which Austin Tate is P.I. and Richard Wheeler is the University's commercialisation manager. The POC project is to assist AIAI in its efforts to put I-X into productive use and to commercialise the technology in various ways. Emergency response has been the primary focus of the POC work to date. This builds on three decades of Edinburgh work on advanced planning technologies, and a decade of work for the UK and US governments on search and rescue using I-X/I-Plan and its predecessor O-Plan.
The presentations focused on the possibilities of applying advanced planning, communication and coordination technologies to crisis modelling, planning, and response integration across Japan. They drew strong interest from senior Tokyo Metropolitan Government and Japanese Defence Force officials. Companies who provide the systems in day-to-day use across the prefectures in Japan and those looking to advanced robotic rescue systems also found the technology of interest for possible future concepts in their systems. Contact has been established with rescue-orientated research groups too. A visit to the main Tokyo area Disaster Response Centre has given valuable information for the I-X Rescue work.
I-X and POC Project co-ordinator Austin Tate said "this has been a great chance for us to meet some of the key people in emergency response in Japan, an area prone to natural disasters, and discuss future ways in which I-X can be put into use to respond to such events and to really save lives. We could not have gained access to such influential individuals and organisations without the support we received for commercialisation from the Scottish Enterprise POC project, ERI, the School of Informatics business development framework, and Scottish Development International out in Tokyo".
AIAI's intelligent planning technology, called I-X, is in use throughout the world in such diverse applications as spacecraft assembly for the European Space Agency and in financial help desks, The IM-PACs Proof of Concept project comes to a close at the end of November, and will be followed by a Scottish Enterprise backed POC Plus project which was announced the day the I-X team left for Japan. POC Plus will focus on maximising commercial outcomes. The I-X team are exploring a number of channels for deploying the technology to achieve the aim of widespread use, especially in highly dynamic emergency response contexts. As part of this, Austin Tate has joined Rhetorical CEO Marc Moens to create I-C2 Systems Ltd which will target markets for virtual operations centres using a range of complementary technologies, including, it is hoped, I-X.
The Informatics team visiting Japan also included Sethu Vijayakumar, Anatoly Sorokin and Stuart Moodie who are anchoring research collaborations in robotics and systems biology with Japanese companies and organisations.