Randomness and Computation
Spring 2020
---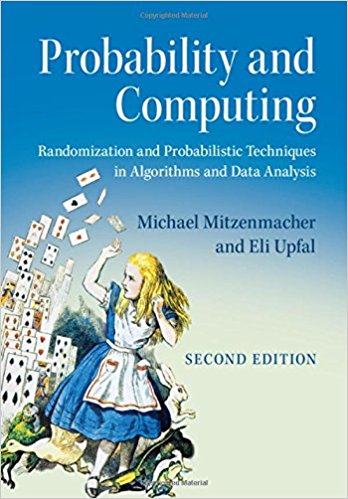 One of the most remarkable developments in Computer Science over the past 30 years has been the realization that the ability of computers to toss coins can lead to algorithms that are more efficient, conceptually simpler and more elegant that their best known deterministic counterparts. Randomization has by now become a ubiquitous tool in computation.

This course will survey several of the most widely used techniques in this context, illustrating them with examples taken from algorithms, random structures and combinatorics. Our goal is to provide a solid background in the key ideas used in the design and analysis of randomized algorithms and probabilistic processes.

Students taking this course should have already completed a good Algorithms courses (with theoretical underpinnings), and have excellent Maths.

If you have not taken the Algorithms and Data Structures (ADS) course (or similar in another University), you should take that first unless you are a very strong student.
To get a feel for the material, you can take a look at the 2016/17 exam paper and/or the 2017/18 and 2018/19 papers. There are also earlier papers on the library site (written by a past lecturer).
All prospective students should do the Self test I have created. When you have finished (it will take an hour and half or maybe two) drop me a message asking for solutions. You should be able to do about 70% of the questions without Googling or needing help - say 10 of the 15 questions.
Course Information
Instructors: Mary Cryan and Heng Guo

Lectures:

11:10-12:00 Tuesday in room 2.3 of the Lister Centre (5 Roxburgh Place).
11:10-12:00 Friday in room 1.3 of the Lister Centre (5 Roxburgh Place).

Textbook: The required textbook for the course is ``Probability and Computing: Randomized Algorithms and Probabilistic Analysis" by Mitzenmacher and Upfal.

Assessment: A written examination contributes 80% of the final grade. The remaining 20% will be based on the second (pencil and paper) homework exercise.
Tutorials
We planned to have 5 tutorials during the semester, on weeks 4, 6, 7, 8 and 10.
However week 8 was cancelled due to the strike, and week 10 will move into week 11 (Thurs 2nd and Fri 3rd April) and online because of the Coronavirus shutdown.
We had two options, and students could attend whichever they preferred:
Tuesdays 12.10-13.00, G203 Teaching Room 2, Doorway 3, Medical School
Wednesday 12.10-13.00, Lister Centre 1.4
Tutorial Sheets will be available on Learn.
Lectures
Lecture recording will appear in Learn.
Slides below the gray line are from the last year. They will be updated as we progress.
Lectures 1-3 (January 14, 17, 21) Introduction. Elementary examples: identity testing, verifying matrix multiplication, randomized min-cut. (Chapter 1 of [MU]).
Lectures 4 and 5 (January 24 and 28) Discrete Probability (random variables, independence, expectation, variance, moments). Markov's inequality, Jensen's inequality, Chebyshev's inequality. Application: Coupon collector's problem. (Sections 2.1, 2.2, 2.4 and 3.1-3.3 of [MU]).
Lecture 6 (January 31) 2-approximation for Max-Cut; de-randomization via conditional expectation
Lectures 7 and 8 (February 4, 7) Chernoff Bounds and applications (from Chapter 4 of [MU]):
Lectures 9 and 10 (February 11 and 14) Balls in Bins (from Chapter 5 of [MU])
Lectures 11-12 (February 25 and 28) The Probabilistic Method

---

week 7: lost due to strike action
week 8: lost due to strike action
week 9: teaching "paused" due to University closure

---

Lecture 13 (March 24 (online)) The Lovasz Local Lemma
Lectures 14-15 (April 1 and 2 (online)) Markov chain basics, application to 2-SAT (first half Chapter 7)

---

Lectures 16-17: (uncovered due to strike) Markov chain Monte Carlo, DNF counting, approximately counting Independent Sets
Lectures 18-19: (uncovered due to strike) Mixing-time of Markov chains.
Coursework
There will be two courseworks in total: the first will be marked and (formative) feedback returned, but will not contribute to the final mark. They will be available on Learn.
Course Outline
Here is a rough outline of the course material:
Introduction: Las Vegas and Monte Carlo algorithms

Elementary Examples: checking identities, fingerprinting
Moments, Deviations and Tail Inequalities

Balls and Bins, Coupon Collecting, stable marriage, routing
Randomization in Sequential Computation

Data Structures, Graph Algorithms
Randomization in Parallel and Distributed Computation

Algebraic techniques, matching, sorting, independent sets
Randomization in Online Computation

Online model, adversary models, paging, k-server
The Probabilistic Method

Threshold phenomena in random graphs, Lovasz Local Lemma
Random Walks and Markov Chains

Hitting and cover times, Markov chain Monte Carlo, mixing times
Guidelines
Please read the following guidelines regarding coursework:
Academic Conduct Policy: Students are expected to adhere to the academic conduct policy of the University; this policy can be found in full here.
Late Coursework Policy: Please see here for the late coursework policy of the School of Informatics.